Last Updated on March 3, 2020 by Jake
A summer yard game that never goes out of fashion is cornhole. This fun game is played with a slanted board with a circular hole and cornhole bags. However, if your cornhole set gets lots of wear and tear, your cornhole bags will need to be replaced from time to time. If that's the case, then you can make a new ones on your own – you just need to know how to make cornhole bags at home.
Of course, you can easily buy some great cornhole bags online, but from time to time it's fun to have a DIY project that your family and friends can enjoy!
Want some more info on cornhole?  If so, check out our cornhole ultimate guide next!
Things You'll Need for DIY Cornhole Bags
Before getting started, you will need a few materials.
10 oz. Canvas duck cloths, 2 different colors
Polyester thread
Corn (or an alternative filler like synthetic pellets)
Fabric marker or pencil
Measuring cup
Needle (#16 machine needle)
Scale
Scissors
Sewing machine (Optional)
In place of real corn, you can also use synthetic pellet filling material. There are solid arguments for both filler materials. Corn as filler material provides an authentic bag that's true to the game's name.
In addition, the fine dust emitted is preferred by many players as it affects gameplay and offers an authentic cornhole experience.  Cornhole bags filled with real corn will slide properly on the boards.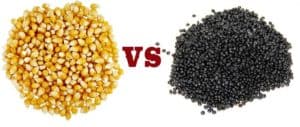 On the other hand, corn breaks down and decays, which can make the bags dirty over time. Also, insects and small animals (such as squirrels) are attracted to the bag as it is filled with corn. As such, the bags have to be stored in airtight containers when not in use.
You are probably picking up on the fact that corn as the filler material is high maintenance. For this reason, some prefer plastic pellet filling. Cornhole bags with synthetic pellets inside are generally easier to clean. They can be cleaned with water and dry them in the sun. The downside to synthetic pellet filled cornhole bags is that they don't slide on your cornhole boards as much relative to corn filled bags.
If the cornhole bags will see heavy use, (for example, they will be used in a charity tournament), then plastic pellets are better as they are more durable and low-maintenance. However, for a game with friends and family, corn works well. It all comes down to preference.
Steps for How to Make Cornhole Bags
Cutting out the Shapes
The first step involves cutting out the fabric. It is a good idea to cut a 7-inch pattern out of corrugated cardboard or poster board. This will serve as a template if you plan to make several cornhole bags.
With the help of the cardboard, trace the 7 x 7 inch pattern eight times on each fabric color. Using a rotary cutter, cutting mat, and cutting guide can quicken the whole process, but scissors work great for this part. By the end of the cuttings, there should be 16 square duck cloths of alternating colors (8 of 1 color and 8 of another color) with each square measuring 7 x 7 inches.
Sewing the Cornhole Bags
The next step involves sewing the duck cloths together. It is best to use a #16 size needle. After threading the sewing machine, sew two cloths of the same color together. Sew only 3 of the 4 sides, ensuring that a single side is left unsewn, as this will serve as the gap through which you will fill the bag.
The seams should be about half an inch from the edge. Start at one end of the hole opening, and ensure you do a backstitch at the beginning and the end of the stitch.
You have to sew the bags twice or use a double stitch. The inside stitch needs to be straight as this will shape the bag. For the outside stitch, you can use a zigzag stitch – this reduces the chances of breakage.
After sewing all eight bags, turn them inside out. You can use a ruler to push out the corners. A wooden spoon and the blunt ends of a pencil or pen work as well. This guarantees that the corners are as sharp as they can be. (A trick to use is to cut the corners before turning the bag inside out. This ensures the corners are sharper.)
After turning the bags inside out, you can now fill them with corn. You need to fill each bag with approximately 15.5 ounces of corn or filling. You can use a digital scale to ensure the weight is right. In the absence of a scale, you can use measuring cups. Two cups of corn weigh about 15 ounces. With the help of a funnel, fill each bag with corn. A rolled up cardboard or paper can also serve as a substitute funnel. Using two pins close the open end of each bag.
Now sew the open side shut. Ensure the edges are tucked inside the bag before sewing. As with all the other sides, double stitch the opening as well. You can use zigzag stitches as that provides more resilience as already mentioned.
Now you have 8 cornhole bags (4 of one color and 4 of another color) to play the game with! Making these bags will take you at most 2 hours and is a fun DIY project.
Caring for Cornhole Bags
To get longevity out of your DIY cornhole bags, follow these tips:
Keep the bags dry. Moisture can easily destroy cornhole bags as it causes the corn in the bag to develop mold. This will quickly render the bag unusable.
Don't leave the bags out. Since the bags are filled with corn, they attract insects and small mammals such as squirrels. It is best to keep the cornhole bags in airtight containers.
You can also place the cornhole bags in the freezer when not in use. This prolongs the lifespan of the bags.
Why Cornhole Is the Perfect Game for the Summer
Cornhole, also known as beanbag toss or baggo is a fun game for people of all ages. It is the perfect game for when the weather gets warm. It's also a great game to host on holidays. Similarly, a charity cornhole tournament is the perfect way to raise money and have fun.
Cornhole is a game that can be enjoyed by all. While it is easy to be acquainted with the game, it requires skill and technique to best your opponents. The game is adaptable. You can play it as a team or one on one. You can play it indoors or outdoors. All of these factors make it a super fun and timeless game.
Also, you don't need much to get started. All you need are a few cornhole bags and a cornhole board. Unlike other games, it doesn't need special equipment. And now thanks to the guide above on how to make cornhole bags yourself, you can enjoy the game with home made equipment.
Playing outside this summer?  Check out our other posts on outdoor games!
Last update on 2022-06-14 / Affiliate links / Images from Amazon Product Advertising API