Last Updated on July 12, 2021 by Jake
The thing I like the most about foosball is its amazing versatility. It can be a fun, casual game for the whole family to enjoy, yet it may get extremely competitive when you're playing with friends. Sometimes you might want to take the game outdoors (either because there is no room for it in the house… or foosball just goes well with barbecue and beer!) But can any table be used outdoors?
I would say… no. Leaving an indoor table in the open air for too long is an open invitation for rust and deterioration.
So, today, I'll review some of the best outdoor foosball tables in the market right now that can stand up to harsh elements. Let's see!
Short on Time? Here Is a Quick Summary:
Title
Garlando G-500 Weatherproof Outdoor Foosball Table
Kettler Carrara Outdoor Foosball Table
Garlando Folding Weatherproof Outdoor Foosball Table
Garlando Master PRO Outdoor Foosball Table
René Pierre Tahiti Outdoor Foosball Table
Kettler Weatherproof Outdoor Foosball Table
Preview
Weather-Proof Construction
Protective Cover Included
Title
Garlando G-500 Weatherproof Outdoor Foosball Table
Preview
Weather-Proof Construction
Protective Cover Included
Title
Kettler Carrara Outdoor Foosball Table
Preview
Weather-Proof Construction
Protective Cover Included
Title
Garlando Folding Weatherproof Outdoor Foosball Table
Preview
Weather-Proof Construction
Protective Cover Included
Title
Garlando Master PRO Outdoor Foosball Table
Preview
Weather-Proof Construction
Protective Cover Included
Title
René Pierre Tahiti Outdoor Foosball Table
Preview
Weather-Proof Construction
Protective Cover Included
Title
Kettler Weatherproof Outdoor Foosball Table
Preview
Weather-Proof Construction
Protective Cover Included
Review of the 6 Best Outdoor Foosball Tables:
In each of the following reviews, I'll dive into the details of each table to find out about the construction, weight, rod design, and much more.
---
Garlando G-500 Weatherproof Outdoor Foosball Table – Most Family Friendly
Garlando G-500 Indoor/Outdoor Weatherproof Foosball/Soccer Game Table
Chromium plated, telescopic rods Players permanently molded to rods Marine plywood cabinet
All surfaces coated with waterproof and washable materials for easy cleaning Waterproof glue used for perfect sealing 4" Heavy duty, black, nylon leg levelers for stability
All hardware has tropical anti-rust treatment Marine plywood playfield with plastic laminate Heavy duty, vinyl table cover included Instructions and playing accessories included
Playfield made of marine plywood with a plastic laminate.
Comes with a heavy duty vinyl liner
The first table on my list comes from one of the oldest sport and leisure manufacturers: Garlando has been satisfying its customers since the '50s.
Their G-500 model features a sturdy, high-quality multi-layer plywood construction that pushes the weight to a hefty 170 lbs. And to make it resistant to weather elements, they coated the whole table with a waterproof plastic laminate.
Do your games often get aggressive? If so, this table won't disappoint.
Thanks to its 4-inch stainless steel legs, you can rest assured of its support and stability. Garlando equipped the four legs with nylon levelers so that you can play over any surface, no matter how bumpy.
Although Garlando claims that all the foosmen are counterbalanced, most customers reported that this is only true for the goalies and defensive backs, not attackers and midfielders.
And to make this table family-friendly, Garlando chose to use chromium-plated telescopic rods that don't poke through the other side. But it's important to know that this design inevitably makes the shots less accurate.
Specs
Weight: 170 lbs
Size: 56" x 35"
Warranty: 1-year
Rods: chromium-plated, telescopic
Pros
Easy installation
Attractive color scheme
Durable, rust-proof construction
Cons
A bit expensive
The handles are a bit small
The foosmen are permanently welded to the rods
---
Kettler Carrara Outdoor Foosball Table – Best Design
KETTLER Carrara Outdoor Foosball Table with 360 Degree Goalie Rotation, 5 Resin Balls, 5 Cork Balls and Premium Storage Cover
MADE IN ITALY - This outdoor foosball table features a tournament-style cabinet with a look that mirrors true Italian Carrara marble plus powder-coated steel legs. Assembled dimensions: 58 L x 30 W x 34 H inches/ Weight: 120 pounds.
SMOOTH MANEUVERING and COMFORTABLE GRIP - The football table comes with steel telescopic rods made with anti-rust chromium plating and elongated playing handles with rubber inlay to ensure perfect shots. Foosball players are molded on the rods and are unbreakable and the goal can be rotated to 360 degrees.
FINE FOOSBALL TABLE FEATURES - Enjoy playing on a melamine playing field, side and corner rails to keep the ball in play, ball pockets on the cabin sides for easy ball retrieval, and nylon bushings for high speed action which also reduce wear and tear.
COMPLETE FOOSBALL ACCESSORIES - Included with the soccer table are five (5) resin balls and five (5) cork balls, so you can start your game with family and friends, right away and a premium quality storage cover to keep your table dust-free and properly stored when not in use.
Want something to fit well alongside your luxury patio furniture? This table from Kettler is your best bet.
Although it's built from wood, Kettler finished it with vinyl that looks strikingly similar to the famous Italian Carrara marble. And without a doubt, this surface finish is treated to endure the harshest weather.
Just like the Garlando, this table has chromium-plated telescopic rods. But thanks to the longer handles, the control and precision are a bit enhanced. However, the lack of counterbalanced foosmen may leave you to the unfound mercy of gravity.
Speaking of the foosmen, they're made from plastic that's supposedly unbreakable. I only wish Garlando hadn't permanently molded them to the rods; replacing cracked foosmen would be extremely hard.
My least favorite thing about this table is the weight. At 120 lbs, it might not be sturdy enough for intense games. However, if you managed to find your way around that, the extra-slick melamine playing surface would be more than ideal for fast-paced games.
Specs
Weight: 120 lbs
Size: 58" x 30"
Warranty: 3-years
Rods: chromium-plated, telescopic
Pros
Hassle-free assembly
It comes with a waterproof cover
It comes with 5x cork balls
Cons
The ball bounces weirdly off the corners
---
Garlando Folding Weatherproof Outdoor Foosball Table – Easiest Storage
Garlando Open Air Indoor/Outdoor Weatherproof Foosball/Soccer Folding Game Table
STURDY CONSTRUCTION: The Garlando Open Air is designed to last a lifetime. Its weatherproof cabinet is made of a unique mix of plastic materials that are reinforced with fiberglass. The thick leg panels are designed to enhance stability.
TRANSPORT WITH EASE: Enjoy the convenience of a foldable foosball machine. Easily transport the table outside on the patio, or inside in the game room. It's perfect for small spaces. When you're done using it, you can store it out of sight.
ALL-WEATHER GAMING: This foosball table is constructed with weather-resistant materials throughout. The playfield is made of plastic laminate. The details on the field are silkscreened on with special ink so that it can withstand harsh weather.
STREAMLINED GAMEPLAY: Play with ease. The table features a ball return on both ends for quick and easy recovery. The anti-rust steel roller bearings not only improve game speed, but they also reduce stress on the wrists. Simply unfold and play.
RELIABLE FUN FOR ALL AGES: Foosball knows no age. Entertain your guests with a fun, time passing game, that's suitable for all ages. Adults and kids can enjoy the game indoors or on the patio. The table also has telescopic safety bars for safety.
We're back again with Garlando, but this time with a unique table that suits people with restricted space. After you finish playing, you can easily fold this table by flipping the handles present on both ends. Afterward, you'll be free to store it upright against your fence.
Contrary to common belief, the foldable design isn't necessarily flimsy. Garlando built the cabinet and legs from compound plastic materials that were reinforced with fiberglass.
Instead of the regular standalone legs, Garlando joined the legs on each side with a fretwork that adds a lot to the overall stability. All in all, the table weighs about 180 lbs, which guarantees rock-solid performance.
Unfortunately, this table doesn't feature leg levelers. This fact limits its potential to recreational family fun that won't mind some crookedness. That said, the chrome-plated rods had to be telescopic; regular solid rods would've been unduly dangerous.
Although Garlando ships a waterproof cover with most of its foosball tables, this one doesn't feature this perk. Still, you can find dozens of covers that match its size.
Specs
Weight: 180 lbs
Size: 60" x 40"
Warranty: 1-year
Rods: chrome-plated, telescopic
Pros
It comes pre-assembled (you'll only need to fix the rods)
Small storage footprint
Smooth playing surface
Cons
It doesn't come with a waterproof cover
---
Garlando Master PRO Outdoor Foosball Table – A Foldable Alternative
GARLANDO MASTER PRO OUTDOOR FOOSBALL TABLE
Outdoor professional foosball table
Folding legs for easy storage
Telescoping rods for safety
Plastic laminate playfield in grass green with painted white lines
Includes abacus scorers and 10 white standard balls
If you liked the foldable build of the previous table, you should also consider this one before making a purchase. As the name implies, the Master PRO is geared toward professional, heavy-duty use.
With 20-mm-thick waterproof plywood construction, this table weighs a whopping 200 lbs. Although this makes it quite hard to fold after you finish playing, it's still a valuable perk that provides superior stability.
And like most of the other tables, the Master PRO is coated with plastic laminate via waterproof glue. This should guarantee prolonged durability with a hermetic seal.
Specs
Weight: 200 lbs
Size: 64" x 35"
Warranty: 1-year
Rods: chrome-plated, telescopic
Pros
The goalies can spin 360 degrees
Easy assembly
Ergonomic handles
Cons
The playing surface is 5 inches narrower than the average
---
René Pierre Tahiti Outdoor Foosball Table – Most Ecofriendly
René Pierre Outdoor Foosball Table - Tahiti. Designed with Safety Telescoping Rods with Ergonomic Handles and 2 Single Goalies
DURABLE AND WEATHERPROOF - Designed and handmade by French Artisans in France, this football table was constructed from high-grade moisture resistant, eco-friendly material which makes it sturdy and highly resistant to humidity, heat, water, harsh ultraviolet rays, and even insects. With rods that are treated against rusting, this weatherproof game room table is ideal for picnics and outdoor barbecues. Assembled dimensions: 60 L x 41 W x 36.61 H inches / Weight: 165 pounds.
SAFETY FEATURES - The game table features telescoping rods that are designed not to pass all the way through the cabinet, eliminating the risk of hitting your opponent accidentally. The metal foosball players are firmly attached to the bars via screws to prevent them from flying off during intense matches.
PACKED WITH AWESOME DETAILS - This soccer table comes with hand-painted, die-cast metal foosball players, a single goalie for each team and two built-in abacus scoring units.
HASSLE-FREE ASSEMBLY - With the clear and easy-to-follow instruction manual, you and a friend can easily set up the René Pierre table game in time for your picnic or outdoor party.
DAZADI MONEY BACK GUARANTEE - Your table will arrive with complete parts, without defect and/or shipping damage. We'll ship new replacement parts or a replacement table without charge. Refunds are also available if you're still not satisfied. All our items ship without charge to your door but we also have in-home delivery and assembly for an added fee. During the 1-year warranty period, we shall repair or replace defective parts at no cost to the purchaser.
Want a table that can live for years on end? This table from René Pierre won't disappoint.
First things first, the cabinet and the legs are made from Medex, a type of wieldy MDF. Unlike regular wood, the formaldehyde-free adhesive system makes it naturally waterproof without needing an additional vinyl coat.
Best of all, this wood is based on pre-consumer recycled wood fiber, meaning that it doesn't require cutting new, virgin trees. This fact makes the table ideal for people concerned about their environmental footprint.
In contrast to most of the other outdoor tables, René Pierre used metal foosmen that are fixed to the rods via removable screws – which means you can easily replace them with, say, the latest Tornado counterbalanced foosmen.
Specs
Weight: 165 lbs
Size: 60" x 41"
Warranty: 1-year
Rods: telescopic with 3-layer chromium plating
Pros
The telescopic handles are safe for kids
Easy assembly
Hefty construction
Cons
Expensive
Absence of leg leveler
---
Kettler Weatherproof Outdoor Foosball Table – Most Affordable
Kettler Weatherproof Indoor/Outdoor Foosball/Soccer Game Table
Completely weatherproof indoor/outdoor table with high-speed glass playing field for a great look and great durability; Nylon bushings allow for smooth high speed action and reduced wear and tear
Constructed with high quality laminates and weatherproof resin for a strong and durable cabinet; Side and corner ramps ensure the ball is always in play
High stress-resistance steel telescopic rods with anti-rust chromium plating for weather-proofing and sturdiness; Unbreakable players molded on the rods to avoid loosening
Ball pockets behind each goal allow easy ball retrieval and continued play with integrated ball drop in mid-field; Resin score counters use blue and grey cubes
Includes cover, five balls and leg levelers to ensure a level playing surface; Table measures 58" L x 46" W x 35" H; High speed glass playing field with telescopic rods with anti-rust chromium plating
If you're looking to save some bucks, you'll want to consider this table from Kettler. It's not that "cheap," but it's certainly the most affordable in the outdoor category.
Although low prices generally equate with poor quality, this isn't the case here. Kettler made this table from high-quality laminates and weatherproof resin, guaranteeing excellent performance against the elements.
Kettler decided to opt for a glass surface for the playing area that allows for high-speed ball maneuvers.
The featured rods are of the telescopic type, making his table safe for short kids. The foosmen are made from "unbreakable" plastic molded over the rods without nails to avoid frequent loosening.
Instead of the typical rubber, Kettler used metal spring bumpers. This design widens the range within which your rods can move, but it's a bit unreliable in terms of durability.
Specs
Weight: 132 lbs
Size: 68" x 46"
Warranty: 1-year
Rods: telescopic, chromium-plated
Pros
The playing surface is 6" wider than the average
The glossy playfield makes the table look more attractive
It comes with a waterproof cover
Cons
The handles are a bit thin
---
The Typical Parts of an Outdoor Foosball Table and How to Buy Them
No matter how authentic your outdoor foosball table is, you'll need to replace some of its parts at some point. If you're not familiar with the typical construction of the table, you'll have a hard time finding high-quality spare parts.
Let's see what makes a foosball table:
1. Foosball Table Legs and Levelers
Despite being often overlooked, I think the table legs are one of the most important parts to consider in a foosball table. If you picked them too thin, stability wouldn't be ideal, especially that you're taking the table outdoors.
Besides the sturdy construction, the legs must be equipped with levelers. These come as small conical parts that have a threaded end. By rotating them, these levelers can raise or lower each leg separately. This way, you'll be able to play normally over crooked or bumpy ground.
2. Rod Bearings
The rod bearings are the small rubber parts that line the rod openings in the side panels. In other words, they're the sleeves that allow the rods to move and swivel without rubbing the actual table.
If you started noticing that some rods are getting heavier than usual, inspect the bearings before anything else. If you visualized cracks or crevices, you'd need to replace those bearings right away.
What happens if you don't? Well, defective bearings won't protect the table as well as they should. This might cut down on your table's lifespan, even if it's still fairly new.
3. Rod Bumpers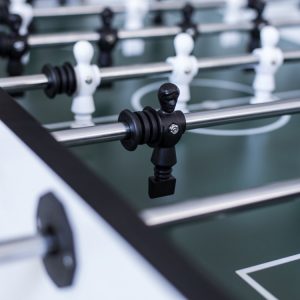 The foosball bumpers are the small parts that prevent the foosmen from striking the side panels.
Ideally, those bumpers should be made of rubber. However, some low-end tables feature metal springs. Although they allow the foosmen to come closer to the walls, they're not the best in durability.
4. Rod Silicone
Technically speaking, can't be considered as a foosball part. However, it's super important in maintenance.
Spraying the rods with silicone will keep them clean and lubricated. Not only will this improve your playing experience, but it'll also lengthen the overall lifespan of the table parts.
5. Foosball Rods
Without a doubt, the construction of the rods would be the main factor determining your foosball experience.
Owing to the less metal content, hollow rods can provide a fast-paced game with featherlight swiveling.
On the contrary, solid rods enable the players to make precise shots with explosive force. That's why professionals and tournament players always prefer them.
What About Telescopic Rods?
Solid and hollow rods are made of a single piece of metal that goes back and forth. On the other hand, Telescopic rods are made of two parts: a core and a sleeve.
With the sleeve fitted above the core, telescopic rods will retract onto themselves instead of poking through the other side of the table. This way, they can be way safer than the original version.
If you're getting the outdoor foosball table for your young kids, telescopic rods would be a no-brainer (i.e., it prevents them from getting hit by the protruding rods, especially when the game gets competitive).
Professionals, however, don't appreciate their undue friction and complicated maintenance, so a table with solid rods would be a better choice for them.
Should the Rods Be Chromium-Plated?
Chrome, aka chromium, is used to plate all sorts of metals, from automotive parts to small screws. Due to its excellent corrosion resistance, chrome is mandatory for any outdoor foosball table. Without it, you'll start noticing significant rusting at the ends of each rod.
Thankfully, it's not only about rustproofing: Chromium plating ramps up the hardness of your rods, which improves their ability to withstand heavy mechanical contact without showing physical wear.
This would be especially helpful if you ever decide to upgrade your foosmen. Since the process requires lots of hammering, the rods can get indented without chrome plating.
6. Handles
The handle material will directly impact your performance.
Wooden handles are the best in terms of gripping traction and moisture control. Their natural texture allows for hours of playing with little to no discomfort.
On the contrary, handles covered with polished vinyl or polyurethane look nicer with a wider color variety. But as the game intensifies, your sweaty hands might start slipping off these slick handles.
Then again, wood isn't that ideal for harsh outdoor conditions. Under frequent rain, most wooden handles might become too rough.
7. Foosball Men (aka Foosmen)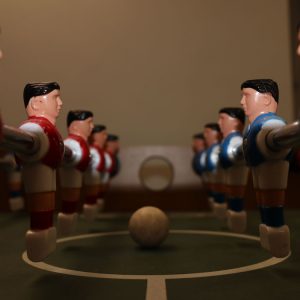 Ask any "fooser," and he'll tell you that the foosmen are the first parts that break in any outdoor foosball table. If they bear major cracking or chipping, some of your shots will go astray. In that case, you can buy a few parts to merely replace the broken foosmen.
However, if you have traditional foosmen with realistic human designs, you may want to change the whole set to enhance the performance.
Manufacturers that design their foosmen as actual humans usually don't pay attention to the shape of the foot. As a result, you can't fine-tune the direction and the speed of the ball to trick your opponent.
Robot-Shaped Foosmen
Tornado, one of the foosball market leaders, was the first to develop robot-shaped foosmen with superior precision and control. Instead of being rectangular, their toes are designed with pointed edges to hit the ball with higher speed and less lift.
Additionally, the foot surface is covered with cross-hatchings that allow you to pin the ball onto the playfield. This is crucial for performing advanced shots like the snake and the bank.
Should You Get Counterbalanced Foosmen?
Before the latest advancements in foosball, the foosmen were fabricated without attention to the weight distribution. Most of the time, the foot was made way heftier than the head.
This made the gameplays a nightmare! Playing one-on-one games was extremely challenging as the foosmen stood upright at all times, thereby blocking your shots and passes.
That's where the counterbalancing came in handy. As the name implies, counterbalanced foosmen are equipped with larger heads that weigh the same as the feet. This way, your foosmen will be resistant to gravity: They can maintain a horizontal position to leave the field clear if need be.
What About "Unbreakable Plastic"?
Recently, many manufacturers have been trying to oversell their tables by saying that the foosmen are made from "unbreakable plastic."
This is just an overstated marketing title that denotes an ABS build. Owing to its sturdy nature, this type of plastic is used in heavy-duty items like LEGO, keyboard buttons, wall sockets, etc. In foosball, ABS foosmen guarantees excellent durability and high hitting power.
8. The Playing Surface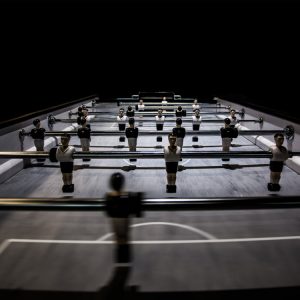 The playing surface is one of the most versatile parts of an outdoor foosball table. Brands use all sorts of materials to fabricate it, but it boils down to either wood or glass.
Thanks to its natural heftiness, wood adds some weight to support the table over the ground. It's usually coated with a plastic laminate to make it waterproof and smooth enough for the ball to slide. However, wood will always have a bit of texture, allowing you to pin the ball easily.
Glass, on the other hand, excels in smoothness. A glass table is often favored by people who like the thrill of fast games. But its glossy surface might feel a bit distracting to some people.
---
Frequently Asked Questions
Does the outdoor foosball table weight matter?
Yes. The heavier the table, the more stable it'll be. This gets especially crucial if you tend to be aggressively competitive.
As a rule of thumb, try to find a table that weighs more than 125 lbs. A lighter build can easily move by forceful rod flicking.
Some models can be as heavy as 200 lbs. They'll certainly be more stable, but relocating them to a new area in your home can be quite challenging.
Can you play on a non-level ground?
There's no one-size-fits-all answer here; not all outdoor foosball tables can be placed over a non-level ground. For this to happen, you must get a model that has leg levelers. Like I said earlier, these levelers come with threaded heads to raise or lower each leg separately.
Without these add-ons, the ball will slide with the inclination direction, giving either of the players an unfair advantage.
Can you play on the grass?
With leg levelers installed? Yes. However, it's better to place the legs on wood planks before adjusting the height. Otherwise, the legs can sink into the soil whenever you apply downward pressure on the handles.
Which balls are best for outdoor foosball?
Many types of foosball suit different skills and playing styles.
Textured foosballs are the gold standard for almost all American professionals. Their rough surface allows you to pin the ball down before attempting trick shots. And since they're primarily intended for tournaments, their weight/size ratio opens the possibility for explosive yet accurate shots. Their heftiness allows for an acceptable playing experience on windy days.
Cork balls are also used in professional tournaments, but they're more common in Europe. Owing to the rough texture of cork, these balls suit foosers who like to depend on skills rather than speed. You can easily pass them between your foosmen and pin them down before scoring.
But because they're a bit lighter than the textured alternatives, they may give you a hard time on windy days. Also, exposure to moisture might ruin their shape to some extent.
Soccer-shaped and smooth balls are valued for their low cost, and that's just about it! Their awful traction and puny builds don't live up to the needs of skilled players.
---
The Verdict
After my elaborate research, I can say that the Kettler Weatherproof Outdoor Foosball Table is one of the best outdoor foosball tables currently on the market for outdoor use. It offers the best value overall — it's affordable and it features a high-quality build that can stand up to harsh weather.
Remember, if you're planning to use the table over a non-level surface, make sure the legs have built-in levelers.
Have fun!
Last update on 2022-06-14 / Affiliate links / Images from Amazon Product Advertising API