Last Updated on July 28, 2020 by Jake
One of the most fun and addicting games you can play is a really simple one.  You might have seen the hook and ring toss game played at a camp or on somebody's outdoor patio.  
The premise of the game is super simple.  A string is affixed to either the ceiling or an overhead structure, with the opposite end of the string tied to an O ring.  A hook is then placed into a wall either directly or hung on a backboard.  After that, players swing the ring towards the hook and try to make the ring land on the hook.  It's as simple as that!
Here is a great graphic showing how the game is set up and played: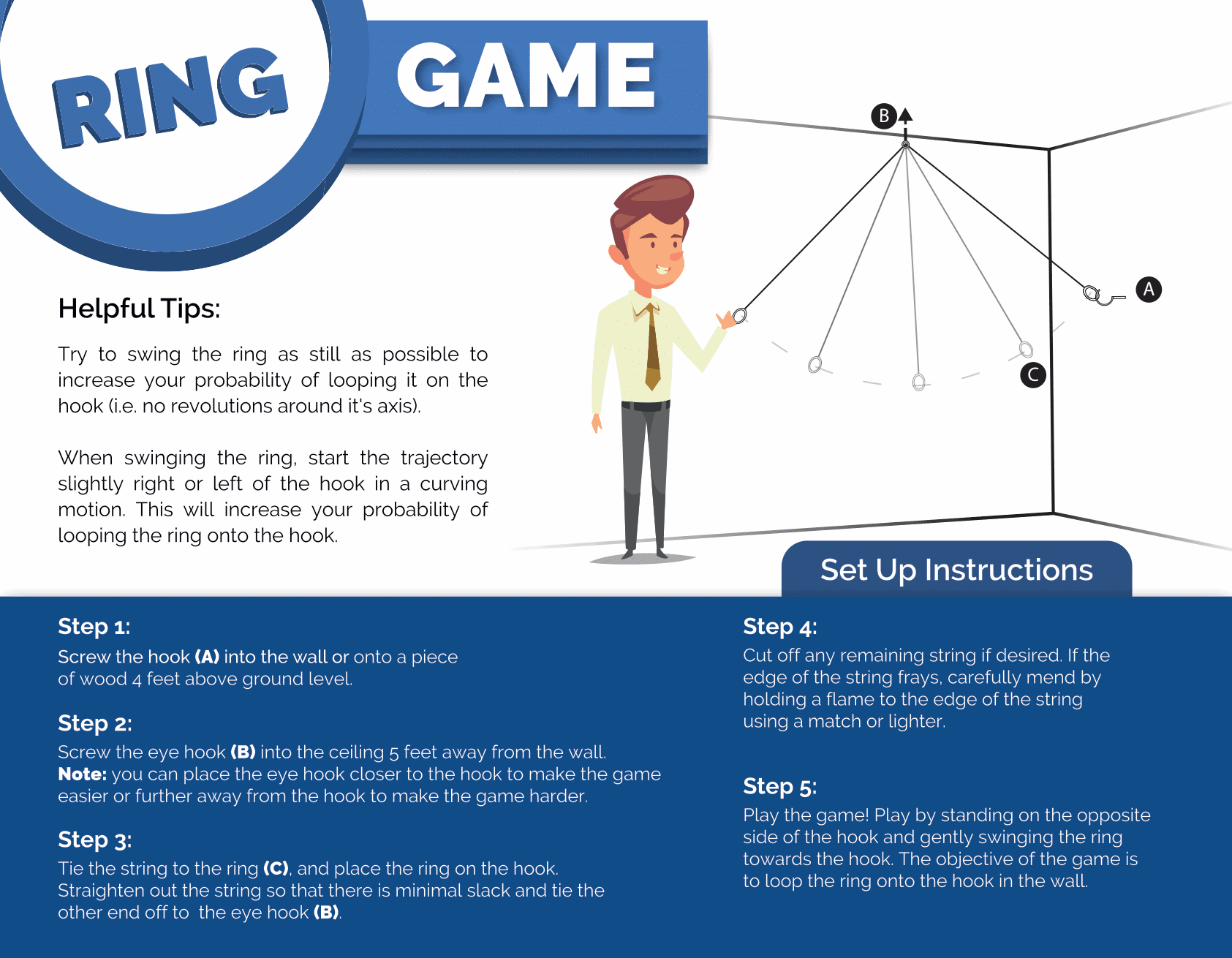 Where to Buy Hook and Ring Toss Game and What to Look For
The great thing about this game is that there are a lot of cost effective options.  There are really only 2 different types of hook and ring toss sets that you can buy.  Some sets will come with a wood backboard, and some do not. 
Whether you want a backboard or not is really a matter of preference.  I've seen a ton of outdoor set ups where the hook is screwed directly into a wood beam and it works fantastically.  If you are wanting to play the game indoors having a wood backboard that hangs like a frame might be a better option.
Best Hook and Ring Toss Games
As far as options without a backboard go, our favorite is a ring toss game that comes with everything you need to play including 2 different size O rings.  This is an awesome feature because you can start off with a large ring then graduate to a smaller O ring when you are ready for an increased challenge.
Additionally, there are some great hook and ring toss games with a backboard if you need to protect the surface behind your game.
Hook and Ring Toss Game Strategy
While the premise of the game is really simple, mastery will take a while.  First, make sure you release the ring as still as possible when tossing towards the hook.  If the O ring is rotating on its axis, the odds of hooking it on the ring get exponentially smaller.
The second strategy we suggest is to swing the ring on a trajectory slightly to the right or left of the hook.  In other words, the ring should make a slight arc on its way to the hook.  If you toss the ring in a straight line, more often than not it will clank directly off of the hook.
How to Make Your Own Hook and Ring Game DIY Style
With DIY ring toss sets at less than $10 it really is a bargain – but if you are feeling ambitious and want to take a trip to the hardware store here is what you'll need.
At least 8 feet of string (maybe more depending on how high your ceilings are).
One eye screw.
One hook screw.
One welded O ring.  We typically recommend 1 inch in diameter, bigger will make the game easier and smaller will make the game harder.
That's it!  Really simple – you can follow the instructions on the infographic at the top of this post after you have gathered these materials.
Need ideas for your game room?  Check out our post of 100+ game room ideas to enhance your fun spaces at home!
Last update on 2021-05-11 / Affiliate links / Images from Amazon Product Advertising API